There is no faster way to get started with indoor digital signage for schools than with Appazur's cloud-based Digital Signage. It's designed to meet the needs of busy school administrators and the school district IT teams that support them. And it's the only Digital Signage solution with school/campus mobile app integration.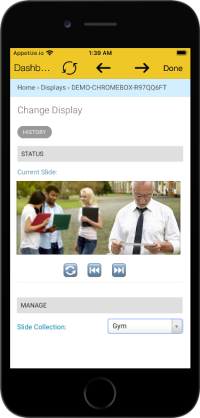 Works Out of the Box
With Appazur Digital Signage, your screens will be up and running on Day 1 with your school logo and colours, and fresh, up-to-date content that you can control from your mobile device! School office staff are already tasked with website updates, monthly newsletters, and social media posts, and don't have time for extensive training and learning complicated new software. Appazur works "out of the box"! Show news, social media posts, events, and website content on the screens automatically. Web links are automatically converted to short URL's or QR Codes. Delegate digital signage content creation and uploads to other staff or students. Easily schedule content to be shown at specified times.
Manage from your iPhone/iPad/Android
No other digital signage is as mobile-friendly! Your principal can post new content to digital signage from her mobile device whether she is in the hall in front of the screen, or at home on the weekend. Use your phone like a remote control for your display to review content or to use a screen for a presentation. And if your school has an Appazur school mobile app, you'll use a single, unified Dashboard to manage both the app and the digital signage.
Calendars, Bell and Block Schedules
Show current events on your screens by linking a website calendar (including Google Calendar). Do you have staggered bell schedules? Is your high school on a block or day rotation? Keep your school on schedule with our exclusive features to automatically show current information on the screens. And don't forget to post lunch menus and gym schedules - it's effortless!
Premium Features, Budget Price
Appazur digital signage is budget-friendly but includes features that other services include only in their premium offerings, like premium technical support, uploaded videos and YouTube, unlimited staff accounts, multiple access levels, device management, and media player monitoring. Direct certain contact to specific screens, e.g. lunch menus in the cafeteria and the gym schedule at the gym. Our exceptional support team will help you keep your screens working day after day all year long, through network issues and power failures, with exceptional 99.9% uptime.
Media Players
Appazur Digital Signage is a content management and device management software solution. You can purchase your digital displays and media player devices from a hardware vendor or systems integrator of your choice. We're hardware-agnostic, so we'll work with the media player devices you prefer. Because we use standard hardware, you don't have to worry about investing in technology that won't be supported in future or that couldn't be repurposed if necessary.
NEW! Appazur Digital Signage is now available for low-cost Android devices and Smart TV's!
If your district IT team supports Google, we'll recommend a ChromeOS device that can be managed as part of your network. ChromeOS devices boot much faster than Windows, and require less maintenance. Devices require ChromeOS management licenses which are discounted for non-profit education. ChromeOS Devices work with the Chrome Management Console, but to make things easier, we have integrated some Chrome Management functions right into your App Dashboard. Staff can sign in to the Dashboard using their school district Google for Education credentials.
Got Microsoft professionals on your team? Your media players can be managed along with your Windows computers. The media player software is available as an MSI installer. Staff can sign in to the Dashboard using their school district Azure Active Directory credentials. Appazur is a member of the Microsoft Partner Network.
Wireless or Wired
In the past, digital signage involved running video cable and setting up a video distribution amplifiers. It was very expensive to run video cable, and you would not have the flexibility to show different content depending on location (e.g. front entrance, cafeteria).
Appazur Digital Signage can work with your existing video infrastructure, or your Wi-Fi or wired data network. Using your data network:
simplifies your infrastructure,
leverages your Wi-Fi investment,
lets staff update content instantly from any web browser anywhere, and
allows you to direct content to specific screens.
Override Classroom Displays
Appazur Digital Signage software can control display screens. For example:
District or school-wide alerts can be displayed on Promethean ActivPanel Interactive Displays, overriding the current video input selection.
🇨🇦 Hosted in Canada
Canadian schools can confidently share pictures and names of your students, knowing that Appazur Digital Signage stores data only on servers in Canada, ensuring you comply with privacy laws. Appazur is a signatory to the Student Privacy Pledge.
Learn More:
Featured Customers
Vancouver Whitecaps National Soccer Development Centre
This example has live schedule data and current weather in the sidebar, and a Twitter feed with shortened URL's in the news ticker.